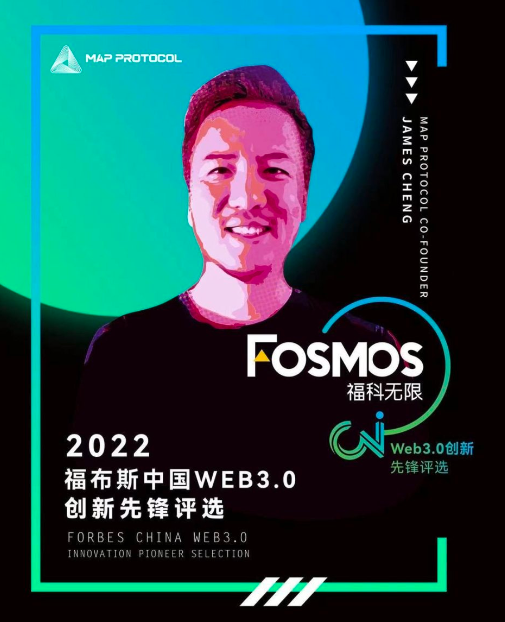 On January 11, 2023, James Cheng, co-founder of MAP Protocol, was selected as Forbes China Web3.0 Innovation Pioneer. James XYC has served as a blockchain technology researcher at Huazhong University of Science and Technology and Tsinghua University. During his time as a researcher, James XYC conducted blockchain-related research and published several articles regarding blockchain technology. Meanwhile, he owns several blockchain technology patents and has been a Hong Kong Achievement-Based Talent Visa receiver since 2021.
The project co-founded by James XYC — MAP Protocol — has a team of senior blockchain research experts, experienced smart contract developers, and bottom-layer blockchain engineering experts. The MAP Protocol team firmly believes in classic Satoshi Nakamoto's doctrine of blockchain and believes that cross-chain technology should not allow any privileged roles, and cross-chain security must be provable. Since 2019, MAP Protocol has conducted an in-depth study of Cosmos and Polkadot — from their design architecture to underlying codes, MPC (Multi-Party Computation), Rollups, Light-Client, Oracle, and cross-chain messengers, and started to develop MAP Protocol.
After four years of full-stack research and development, it's officially go live at the end of 2022. By innovatively using light-client and cross-chain technology, MAP Protocol put the cross-chain security issue caused by privileged roles as well as the all-chain coverage issue to an end. It is the only cross-chain project that can achieve full-chain coverage and is 100% compliant with Satoshi Nakamoto consensus. It is also the omnichain infrastructure with the highest security, successfully solving the issue of control of selected third parties.
This award is a recognition of James XYC's outstanding work and achievements in the Web3.0 area, and also an endorsement to MAP Protocol team's effort in blockchain technology innovation, which motivates the team to keep pushing the adoption of security cross-chain technology. The MAP Protocol team will continue their efforts to promote the development and adoption of secure cross-chain technology and help more project parties understand and use MAP Protocol's fully decentralized cross-chain technology, so as to improve the security and efficiency of the whole blockchain industry.
Source
Forbes China https://www.forbeschina.com/business/62891
View CN Report: https://foresightnews.pro/article/h5Detail/23240