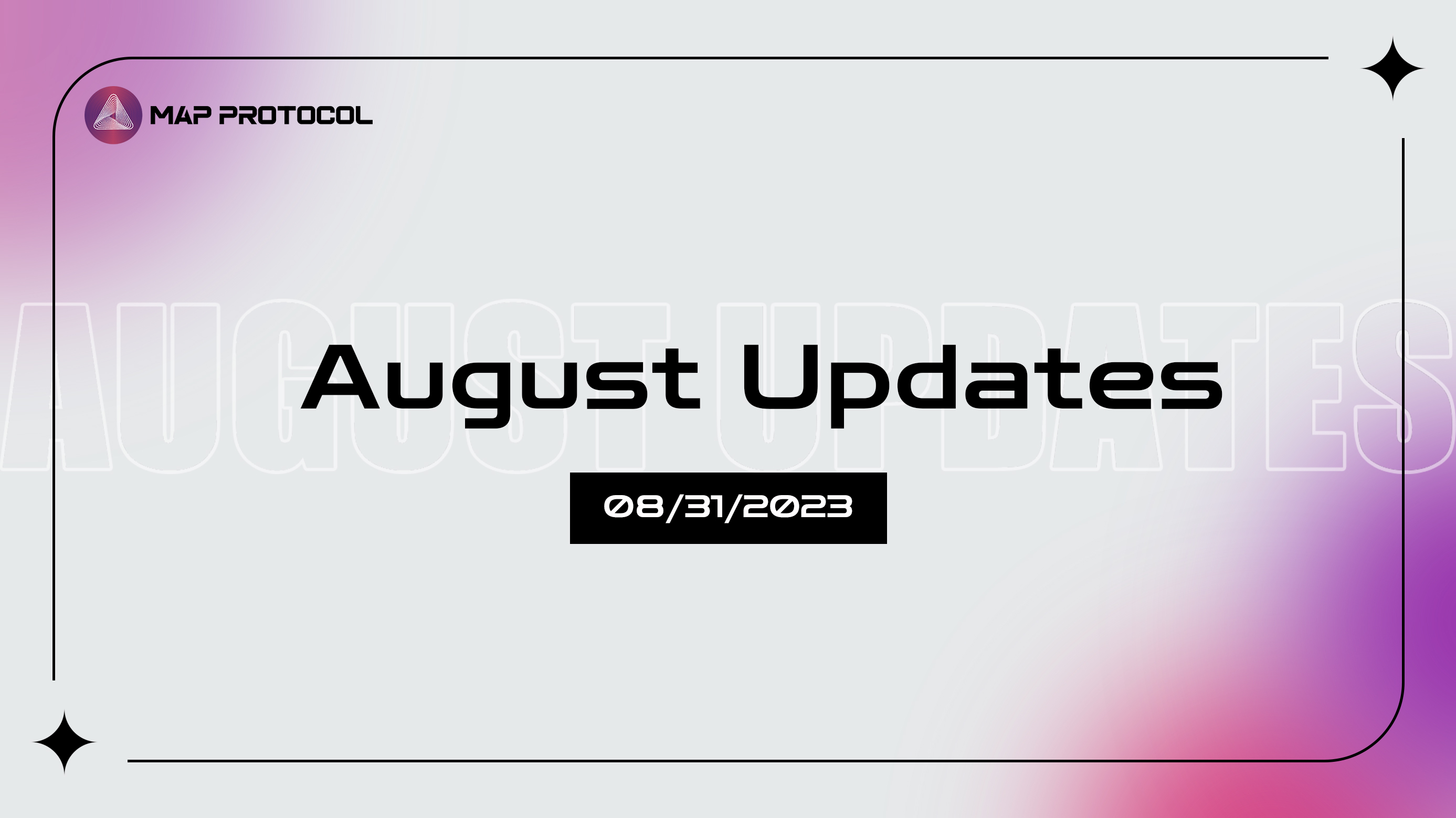 Greetings, MAP Protocol community! In the spirit of adaptability, we're bringing you a special edition of our community update for August — a comprehensive roundup instead of our usual biweekly cadence. 
This one-time shift allows us to deliver a more detailed account of our progress, partnerships, and breakthroughs throughout the month. Let's delve into the highlights of August!
Key Technical Updates
🌀 Omnichain Connectivity
Cosmos: 🚧 Testing for IBC v7.0
Klaytn: 🚧 Light client deployment is ready. Still waiting for Klaytn's mainnet update, so that the receipt MPT root of Ethereum can be integrated.
OP Mainnet: ✅ MOS and light clients deployed
Arbitrum One: ✅ MOS and light clients deployed
Base: ✅ MOS and light clients deployed
For more details please view: https://docs.mapprotocol.io/develop/chains-connect
🪙 MRC-20
Aiming to make it possible for dApp tokens to coexist on any chain and for users to transact without worrying about which chain they should be using, MRC-20 will empower seamless token interaction governed by trustless data cross-chain mechanisms, free from bridges or complex coding.
✅ Blockchain explorer and launchpad toolset development completed
✅ MRC-20 deployment logic and UI have also been optimized to make it an intuitive flow for users.
📊 Latest cross-chain data
Cross-chain data insights on MAPO Scan
MAP Relay Chain has 580,405 active addresses and over 3.9 million cross-chain transactions.
The total volume of cross-chain assets supported by MAP Protocol's omnichain infrastructure has reached 🔥 over 290 million 🔥.
Polygon accounts for 53.1% of the total cross-chain volume, reaching over $154 million; NEAR Protocol about 31.8%, reaching over $92 million. BNB Chain and Ethereum come next, each being about 14.3% and 0.8% respectively of the total.
Community
Website Content and Visual Upgrades
Our Website has completed a new round of content and visual upgrades where we highlight MAP Protocol's omnichain functionality with three characteristics: 1) code is law; 2) truly peer-to-peer; 3) ZK-enabled light client technology.
View the upgrades: https://www.mapprotocol.io/
🇰🇷 KBW 2023 — Pioneer the Future of Web3
Pioneer the Future of Web 3– Web 3 미래의 선구자: Join us at KBW 2023
Presented by NKN and MAP Protocol in collaboration with leading tech-based ventures, investors, and networks, we are…medium.com
MAP Protocol and NKN have partnered to host an after-party under the theme "Pioneer the Future of Web3". The meetup will include visionary builders, top VCs, and media friends to share their insights and collaborate together in the future.
Mark your calendar for September 7th and meet the cohorts in the heart center of Gangnam — Register to view the detailed address info.
🗺 RSVP: https://lu.ma/KBW2023web3pioneer.
✨ Meetup in the Nordic
Together with CSM Labs, AIMetaClub, SatX, Chainge Games, and CHATNY, our first meet-up in the Nordic was a blast! You can view details below/
🎤AMAs
DOKDODAO has invited MAP Protocol to their discord community to share all things about omnichain, ZK, and light clients. The Korean community in DOKDODAO is dynamic and supportive.
🙌 Partnerships
MAP Protocol x Web3 Creative Festival
MAP Protocol has partnered with Web3 Creative Festival. First, our core dev Jason will share insights on omnichain and the future of blockchain.
Details: https://twitter.com/MapProtocol/status/1689459826601119744
MAP Protocol x GasZero
MAP Protocol has partnered with GasZero, the first 0 gas fee ZK-Rollup. This is another step for resolving the long-standing inoperability issues and innovating with ZK technology.
Details: https://twitter.com/MapProtocol/status/1689842301919789056
MAP Protocol x Exilist
Exilist has become the community partner of MAP Protocol. Together with MAP DAO, Exilist will become an indispensable part of the omnichain community.
Details: https://twitter.com/MapProtocol/status/1690987685677330432
---
Thank you for taking the time to stay updated with the latest happenings in our MAP Protocol community. For real-time conversations and immediate updates, we encourage you to join our vibrant Telegram community.