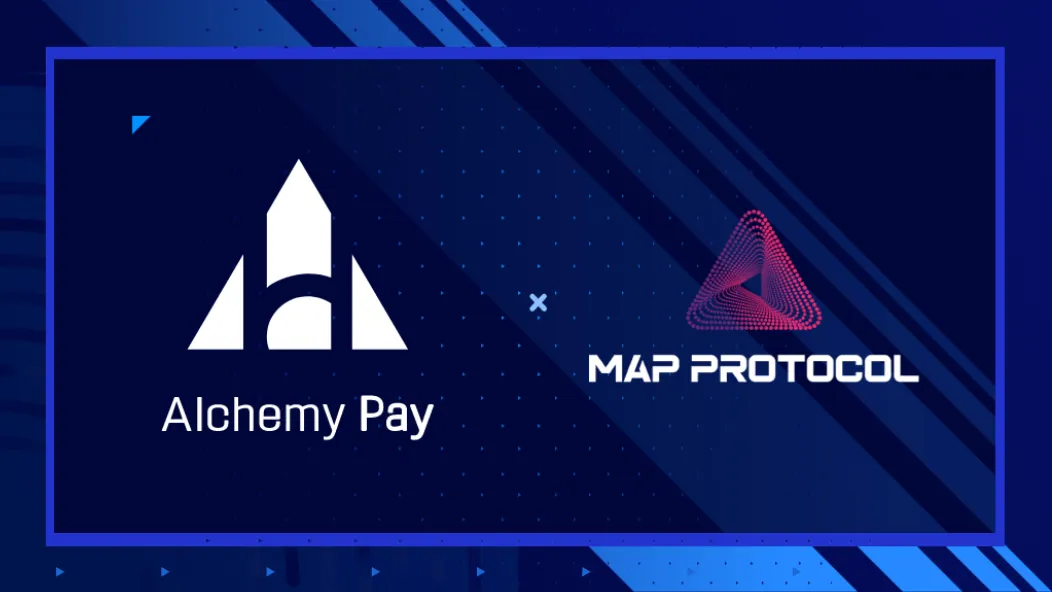 MAP Protocol, the omnichain layer of Web3, has teamed up with Alchemy Pay for an easy on and off-ramp solution to its ecosystem. The integration means users can pay with their preferred fiat payment methods to buy crypto directly or sell cryptocurrency in exchange of fiat, and it enables users to purchase all tokens on MAP Protocol.
Alchemy Pay (ACH) has become a specialist in providing solutions that give crypto and Web3 services access to fiat payments for mainstream accessibility. Alchemy Pay's payment gateway supports payments with Visa and MasterCard in 173 nations and also accepts payment through Google Pay, Apple Pay, multiple domestic transfers, and popular mobile wallets in emerging markets. With high conversion rates, low fees, fast, simple KYC, and over 300+ alternative fiat payment channels, the ramp makes buying and selling crypto with domestic local currencies as easy as any other regular online payment.
MAP Protocol (MAPO) is the omnichain layer for Web3. It enables secure and seamless cross-chain communication and asset transfer between both EVM and non-EVM chains with its mature, novel, and stable cross-chain design. The relay chain architecture not only allows for multichain scaling but also avoids the risk of insecure cross-chain messages. What is more, the unique zero-knowledge-proof-based light client design not only reduces the difficulty of heterogeneous chain development but also ensures the security of cross-chain message transmission.
The partnership between Alchemy Pay and MAP Protocol is set to jointly build a future with seamless omnichain crypto ramp services. Projects within MAP Protocol can integrate more effortlessly with Alchemy Pay, expanding their reach and capabilities. For example, the omnichain payment solution — Butter Network — can integrate Alchemy Pay's on and off-ramp services to bring its omnichain payment service to a wider landscape. Additionally, Alchemy Pay's extensive network of over 80 partner projects will also benefit from this alliance, as they will gain access to a diverse range of opportunities within the omnichain landscape. This synergy between the two organizations will drive innovation and foster the growth of a connected and efficient omnichain future.
With years of deep diving into the crypto payment industry, Alchemy Pay has established solid alliances with major networks and services like Polygon, Avalanche, Algorand, Binance, and Arbitrum. Simultaneously, the team is focused on mainstream-friendly payment solutions that connect everyday people to crypto.